Personal Growth & Achievement
Improved Mental Focus
Start your trial now!
Call or fill the form below to schedule your FREE One-On-One private Lesson, Tour & Consultation!
---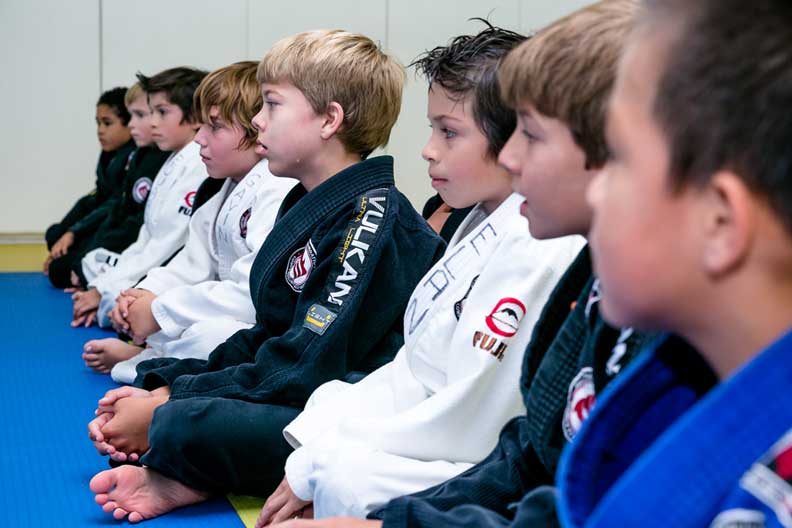 Over time, children can develop a bad habit of letting their eyes wander while someone is talking to them.  If never corrected, this can hurt a child's ability to concentrate in school, at home and eventually at work.
Looking in the eyes is one of the most basic skills we teach our students.  Your child will learn to always look in the eyes when someone is talking to her.
First-time-listening is another important skill our students are taught.  Students learn to practice only having to be told once to do something by an instructor.
Improved Life Skills
Aside from physical martial arts skills, Jiu Jitsu Foundation students also go through a Life Skills program.
The life skill lessons are respect, self-control, proper attitude, and many other topics. These lessons are taught in every children's class and they are really what the essence of the martial arts is all about.
Respectful Attitude
Respect is a foundation aspect of martial arts.  Students are not just told to respect each other.  Students learn to respect each other by bowing to one another and maintaining eye contact with each other during the class.
Desire for Growth & Achievement
There are no bench-warmers in martial arts.  Jiu Jitsu Foundation offers a personalized, built-in reward system for students.  Because children grow and develop at different paces, we track student progress on an individual, personal basis.  Your child will quickly learn that he can earn his next belt if he puts in the amount of time and energy necessary to achieve it.
Even more importantly, they develop a winning attitude and the self-confidence to repel bullies before an altercation occurs.
Belt Level Divisions
At Jiu Jitsu Foundation we not only divide our students into specific age groups, but we also divide our classes by belt ranks. This allows us to truly focus in on the specific skills that each belt level is trying to master and pace the classes appropriately.
Facility
Safe, clean and sanitary learning environment
All of our schools are professionally cleaned every evening to maintain a clean and sanitary environment for our students to train in. We understand how important this is to our students and their parents.